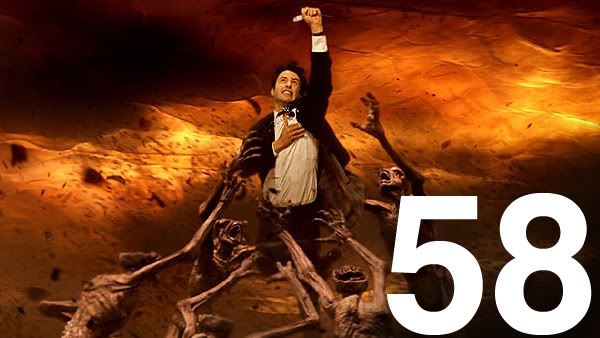 Comic book movies do not stray far from the typical super hero story lines, but in 2005 Keanu Reeves starred in a film based on a graphic novel that dealt with a topic that was not common within the comic book genre: theology. As Keanu Reeves and Rachel Weisz get caught up in a battle between God and the Devil we wonder if this film deserves to go to heaven or hell.
Direct MP3 Download
Show Notes
Directed by:
Francis Lawrence
Written by:
Kevin Brodbin, Frank Cappello
Starring:
Keanu Reeves, Rachel Weisz, Shia LaBeouf
Tilda Swinton, Pruitt Taylor Vince, Djimon Hounsou,
Peter Stormare, Gavin Rosdale
Constantine
Papa Midnite's Club
Constantine Goes to Hell
Tilde Swinton as Gabriel
Peter Stormare as Satan
Deek's Drawing
Kevin's Gift
What did you think of Constantine?
Question of the Week:
Which movies have been snubbed at the Oscars, past and present?
Leave your answer here

Bonus Episodes
Yeah, It's That Bad Blog
Next Movie:
Stealth
Get Your Voice on the Show!:
Send us your questions, to our voice mail at
973-797-YEAH(9324)
and you may be
able to hear yourself in an upcoming episode!
The call is free to anyone in the
continental United States only.

Leave us a review on iTunes
Subscribe the show via RSS
Subscribe via Zune
Subscribe via Stitcher
Contact Us
Suggest a movie for us to review.
Tweet
......